90
s

left


Entrance Shaman—Sight Unseen 1998


Original stone lithograph on paper. 25-1/2 x 19-3/4 inches 65 x 50 cm
center


Catalogue, Modern & Contemporary Prints Part Two
Redfern Gallery

, London, 2004.
right


Exhibition catalogue.
Redfern Gallery

, London, December 1965 - January 1966.


left to right
Entrance Shaman—Entrance to Shaman Labyrinth 1998
Entrance Shaman—Shaman to the Prism Seen 1998
Entrance Shaman—Shaman's Anvil 1998

Original stone lithographs on paper. 25-1/2 x 19-3/4 inches 65 x 50 cm

Entrance Shaman—
Whisper of Shaman Wand 1998

Catalogue, traveling exhibition
" Regard sur l'Estampe en France de 1945 à nos Jours."


Organized by PACA, 1998-1999.




In progress at Atelier Franck Bordas, Paris.


Monotype 1994
Printed at Smith Andersen Editions, Palo Alto.
"The Art of Collaborative Printmaking: Smith Andersen Editions." Nevada Museum of Art, Reno [August 13-October 4, 1998] and the De Saisset Museum, Santa Clara University, Santa Clara [August 24-December 3, 1999].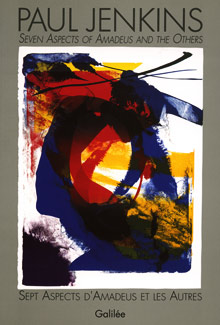 1991-92 Seven Aspects of Amadeus and the Others.

A series of original lithographs on stone printed at Atelier Franck Bordas, Paris.
80
s

Aux Quatre Vents 1987
Original lithograph from stone printed at Atelier Franck Bordas, Paris.
48- 1/2 x 67 inches 123 x 170 cm
Primary Colours Canada 1981
A series of original lithographs on stone printed on Somerset rag paper by Sword Street Press, Toronto.
38 x 29-1/4 inches and 29-1/4 x 38 inches
left to right


Sheffield Blue | Sinclair Red | Cardinal Prism
Vermillion Enigma | York Summer Solstice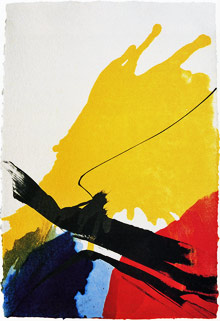 A series of monoprints printed by Tyler Graphics.


Four Winds (I) 1980

48 x 33 inches


East Winds (II) 1980

47-1/2 x 35-1/2 inches


West Winds (III) 1980

51 x 37-3/8 inches
Three etchings, 1980: Emissary, Himalayan Hourglass, Over the Cusp.
— Tyler Graphics: Catalogue Raisonné, 1974-1985
Walker Art Center, Minneapolis and
Abbeville Press Publishers, NY 1987
70s

Katherine Wheel 1979
43 x 29-1/2 inches 109.2 x 74.9 cm. Printed at Tyler Graphics.
Monoprint, stone lithograph, screen print on white Duchene handmade paper.

In 2015, the British Museum acquires a monoprint from this series.

— Tyler Graphics: Catalogue Raisonné, 1974-1985
Walker Art Center, Minneapolis and
Abbeville Press Publishers, NY 1987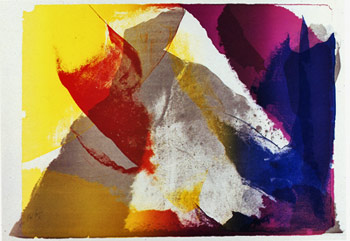 Untitled 1976
stone lithograph printed on paper at Atelier Mourlot, Paris.
23-3/4 x 34-1/4 inches
Exhibition and catalogue, Masters of Contemporary Printmaking.
Associated American Artists, New York. January 4th-February 2nd 1991.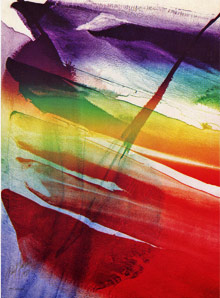 Phenomena Franklin's Kite 1974
Original lithograph from stone, 26 x 19-1/2 inches
Printed at Atelier Fernand Mourlot, published by Alex Rosenberg, New York.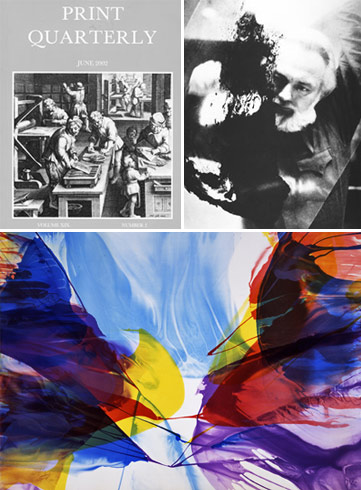 Sanctuary Light graphic 1972
39-1/4 x 54 inches Printed by Harry Lerner, Triton Press.
Print Quarterly, June 2002 Vol. XIX No.2, London.
Studio Collotype: Continuous Tone Printing for the Artist, Printmaker and Photographer. Kent B. Kirby. Heliochrome Press, Dalton, Mass., 1988.
60s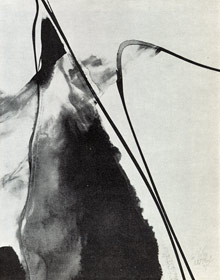 Untitled 1969
Lithograph 58 x 45.5 cm, catalogue entry no. 12.
Kestner Gesellschaft exhibition.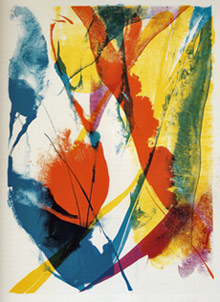 Untitled 1965
Stone lithograph on Rives paper printed at Atelier Mourlot, Paris.
image 66 x 47 cm sheet 75.6 x 53.8 cm
Collection Worcester Art Museum, Worcester, Massachusetts.
Exhibition and catalogue, The Stamp of Impulse: Abstract Expressionist Prints. Traveling exhibition and catalogue originated by The Worcester Art Museum, David Acton, 2001, traveling to The Cleveland Museum of Art, Cleveland; Amon Carter Museum, Fort Worth; Mary and Leigh Block Museum of Art, Northwestern University, Evanston; The Parrish Museum, Southampton.
Red Parrot 1964
Lithograph 76.4 x 56.4 cm
In the collections of the Albright Knox Gallery, Buffalo, and the Australian National Gallery, Canberra.
Iconography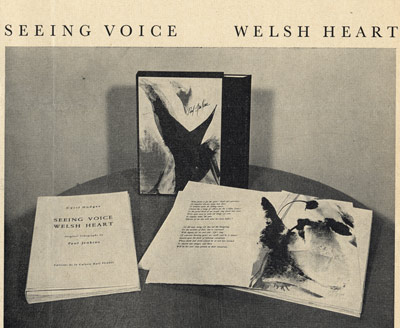 Seeing Voice Welsh Heart 1965
15 x 10 inches 17 poems by Cyril Hodges, 7 original stone lithographs by the artist printed at Atelier Fernand Mourlot, Paris. Published by Editions Galerie Karl Flinker, Paris.
Museum collections include the Museum of Modern Art and the Solomon R. Guggenheim Museum, New York, the Detroit Institute of Art and the University of Texas at Austin.



We the People 1988
Original lithograph in triptych from stone.
28-1/2 x 61-3/4 inches 72.5 x 157.5 cm
Printed at Atelier Clot Bramsen & Georges, Paris, for the limited Edition of the U.S. Constitution published by Galerie Art Concorde, Paris. Folio: 30 x 22 inches, in a numbered and signed edition of 250.



Euphories de la Couleur 1988
Five original stone lithographs by Paul Jenkins, together with five
illuminations from stone by the artist of poems by André Verdet, and five
illuminations by the poet printed from zinc; 15 sheets in a linen case.